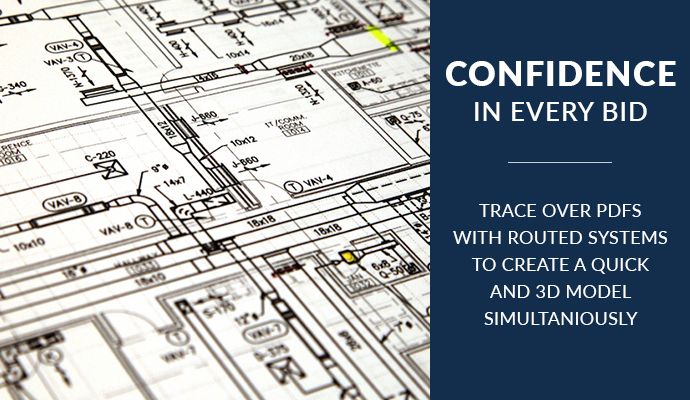 Accurately Predict Material & Labor Costs - Trace PDFs Using Routed-Systems and Line Item Your Costs and Labor Rates
Giving your customers a clear estimate has never been easier with Benchmark's estimation features. Design your project with built-in standards and full parts libraries to your specifications by tracing PDFs using routed systems. From there the estimation features allow you to line item your costs granularly through our customizable pricing systems. This allows you to go into greater detail and be able to back it up with a 3D Benchmark powered CAD drawing.
For labor estimates, Benchmark's Labor Cost Scheduling is a powerful features for calculating labor and labor rates based on employee numbers and project timeframe. For Sheet Metal Worker Union members, this will automatically apply Union Foreman, Journeyman and Apprentice ratios for you. Never before have you been able to do all of this directly from a CAD drawing.
Price with Confidence - Save Time as You Aaccurately Draw and Price Your Duct in One Step
Use Benchmark Software's Project Management, deep customization, built in Duct Construction Standards, Labor Tables and cost database to go from a drawing or takeoff to an accurate price in no time.
Benchmark Estimation Users Get Access To:
Using AutoCAD and our feature rich Benchmark Draft Tools, you can trace a PDF using Routed System or build a detailed system using our Libraries Palette to place them piece by piece, or combine the two for a quick estimate that can easily turn into a detailed BIM drawing

Full Drawing control using our intuitive Properties allows for Quick Selecting parts via queries, changing standards and parameters on the fly, detailed automatic annotation, display customization and much more.ace them piece by piece, or combine the two for a quick estimate that can easily turn into a detailed BIM drawing
Export IFC to Revit for diverse sharing abilities (Object Enabler also allows the DWG to be viewed by non-Benchmark users inside AutoCAD)
Combining our powerful Databasing tools with the ease of creating drawings, the Estimates are completely in your control
Estimations are detailed pricing based on a drawing, or Fitting Input Batch, and referencing Components/Sub-Assemblies that are fully customizable
Estimate Summary offers available options to see price metrics based on number of AHU's, square footage, weight, CFM and Building/Floors
Correspondence tools allow for all communication to be documented and kept for reference
Components and Sub-Assemblies allow for accurate and granulized pricing for everything down to nuts and bolts

Cost Scheduling allows for proper Labor pricing according to your own shop and your field workers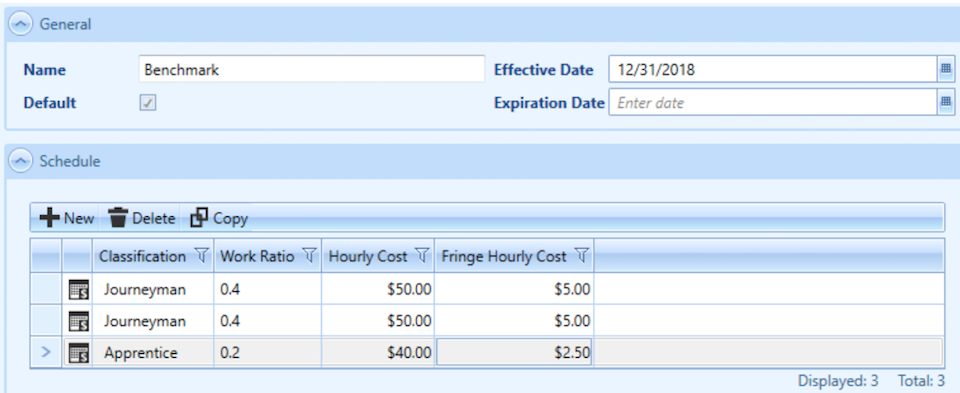 Benchmark Estimation Users Get Access To:
Labor Tables
Cost Schedules
Components Sub-Assemblies
Drawings
Database Management
User Management
User Permissions
Company Database Sync
Work Schedules
Duct Construction Standards
Piping Standards
BIM Viewer
Projects
Projects Create
Contacts
Correspondence
Submittals
Part Libraries
Annual Subscription
Billed Once Every 12 Months - $306.25/mo Equivalent MSRP
Use Sale Code: BMV7NU20
$245/mo Equivalent
3 Year Subscription
Billed Once Every 36 Months - $268.75/mo Equivalent MSRP
Use Sale Code: BMV7NU20
$215/mo Equivalent