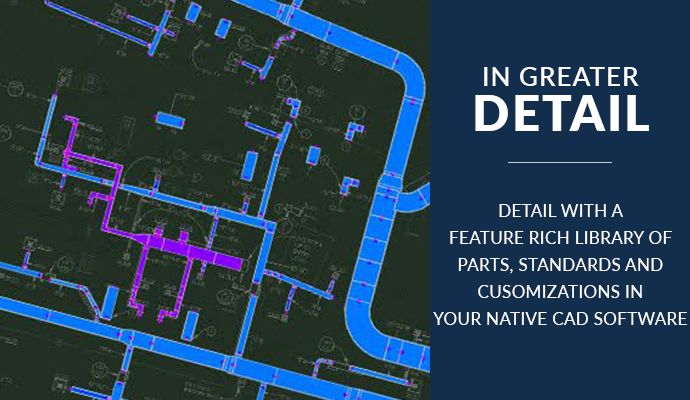 Software Designed to Think Like You - Use Benchmark's Extensive Parts Library And Built-In Construction Standards To Save Valuable Time
Benchmark is built around AutoCAD's Base module to better help you detail your drawings and reduce costs in a familiar environment. Benchmark's drafting features add to AutoCAD's by allowing you to create systems faster with Benchmark's robust parts library at your fingertips. Start with SMACNA construction standards built in to get your project rolling right away with minimal setup. Use absolute and relative elevations and collision detection to find problems before they start. Import and trace over PDF drawings with routed systems and a full parts library that works seamlessly with your traced system. Available parts libraries include sheet metal, phenolic duct, electrical, piping and equipment all ready to insert into your drawing.
It's not just about putting down parts, Benchmark knows when to reinforce and what connections to make between your equipment and ductwork. If you design something that doesn't meet the built-in construction standards you started with, you'll get a notification to correct the issue. It's almost like having a second pair of eyes making sure everything is the best it can be.
Draw in Greater Detail - Benchmark's Built-in Standards and Parts Library Take Your Drawings Further
Detail in your native CAD environment with the full force of Benchmark Draft to quickly create beautiful 3D drawings. Projects can start with built-in or user customized construction standards to aide in drawing accuracy throughout multiple drawings. Use routed systems to quickly draw with Benchmark's deep modification options and piece-by-piece library integration. Instead of hand measurement, easily adjust your scale and complete a takeoff in a fragment of the time while also supplying your customer with an in depth image that shows what you have quoted. It is a safety net that allows you to easily have field verified measurements signed off on when the project is awarded. Add custom parts to your library with XML Schema integration.
Quick and useful annotations, automated or manual, can be used to provide even greater drawing clarity. Modify parts after placement to detail and alter one-by-one or use quick-select to efficiently identify parts needing adjustments.
BIM Coordinators using Benchmark Draft will also have access to collision detection and absolute and relative elevations. Export your drawings to IFC Format for Revit users or use Benchmark's Object Enabler to allow other CAD users access to your drawings. Pairing Benchmark Draft with our Survey module, gain Total Station BIM access to coordinate duct hanger points.
Shops running Benchmark Fabrication are able to take drawings straight from Benchmark Draft and nest them in a CNC file. With Benchmark, there's no need for double entry.
Benchmark Draft Users Get Access To:
Project Specific Correspondence Management
Batch Manager
Routed Systems
Benchmark BIM Viewer
Built in Duct Construction Standards, which can be customized to your job Built In Construction Standards, which can be customized to your job
Deep Customizable Parts Library
Custom Parts with XML Schema
Collison detection
Absolute and relative elevations
Export to IFC for Revit users
Object Enabler
Annual Subscription
Billed Once Every 12 Months - $187.50/mo Equivalent MSRP
Use Sale Code: BMV7NU20
$150/mo Equivalent
3 Year Subscription
Billed Once Every 36 Months - $175/mo Equivalent MSRP
Use Sale Code: BMV7NU20
$140/mo Equivalent